Employee advocacy has been one of the most trendy buzzwords in human resources, marketing and sales over the past few years. Despite its growing popularity, a majority of brands have yet to truly activate employees as marketing, sales or recruiting assets.
Although the concept of employee advocacy has been around for decades in various forms, the internet and social media have revolutionised it and added new possibilities. With all these changes, brands have to rethink the way they approach advocacy and how employees fit into the company.
What is Employee Advocacy?
At its core, employee advocacy is the promotion of an organization by its staff members. An employee advocate is someone who:
Generates positive exposure and raises awareness for a brand through digital media or offline channels
Recommends a company's products or services to a friend or family member
Represents the best interests of the company both internally and externally
Can help build employee ownership of the organization
Is an expert on your product or service and can be a credible spokesperson for your company
The Power of Employee Advocacy
An extended network creates strategic business advantages
People are 16x more likely to read a post from a friend than from a brand themselves.
Connections are 8x more likely to engage with your employees' social shares than your brand's.
Number of employers and recruiters who say the recruitment process is shorter via referrals.
The amount your leads can potentially increase when marketing through employees on social.
Increase Your Reach on Social
Organic reach on social media has dwindled down considerably over the past few years. SocialFlow analyzed the organic reach of 3,000 Facebook pages that reach an average of 600 million users a year. They found organic reach from these publishers dropped a whopping 42% per post between January and May of 2016.
This shift has led many brands to start allocating more money toward social media ads and boosting posts to push their reach up. However, employee engagement could be a more cost-effective solution to organically increase your reach.
Let's say a company of 100 employees has 2,000 fans of their Facebook business page. Their potential total reach is 2,000. Now if every employee in that company had an average of 338 friends on Facebook, the total reach of all the employees combined is 33,800. This calculates to a 1,590% increase in reach. By utilizing your employees' social media networks, you have the ability to reach a much larger audience and have your message be seen by exponentially more people.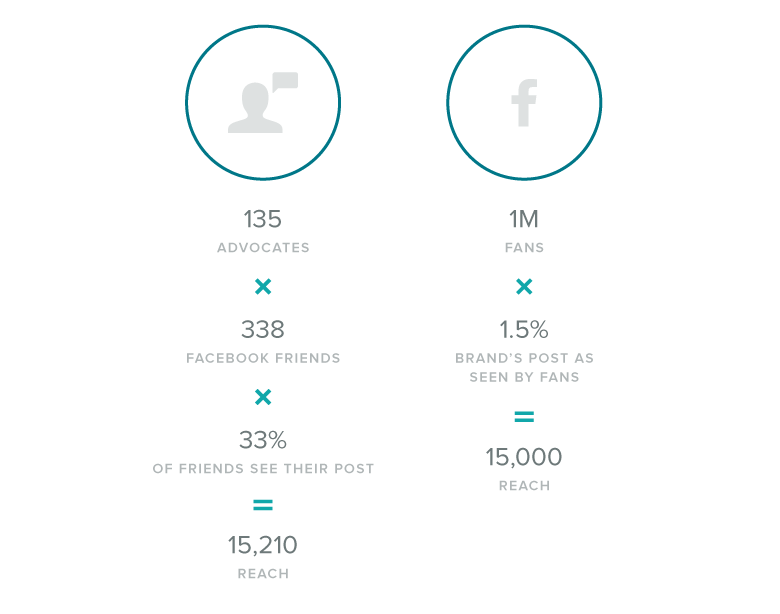 Making Advocacy Work For You
Having an employee advocacy program is nice. But having a program that actually produces results is even better. The question is, how do you measure employee advocacy?
There are many different metrics to track, and the ones that you focus on will be individual to your business. Some key metrics to keep an eye on are: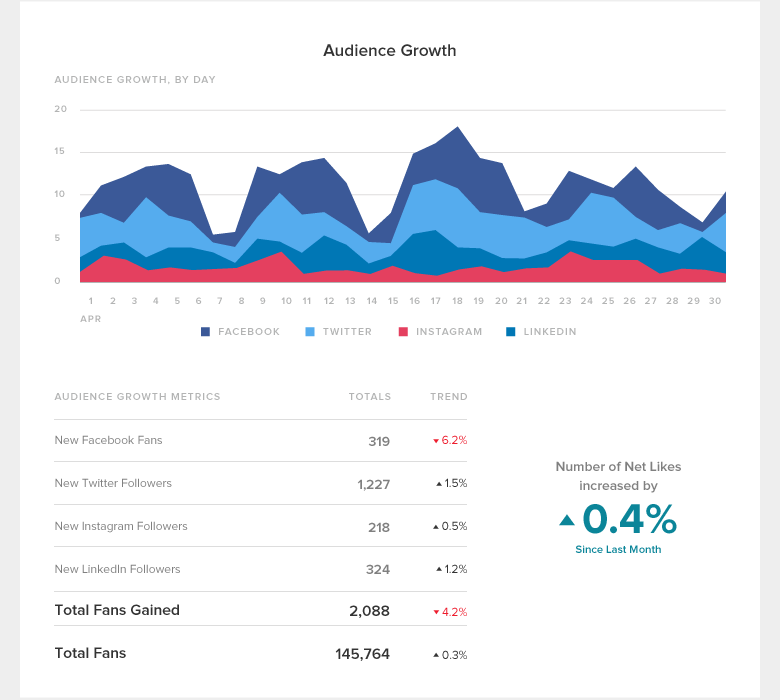 Inversion Advocacy Marketing Services
Our ultimate goal is to ensure that the brands and employees are working in a mutually beneficial way. We do this by setting up the right advocacy software and working towards achieving adoption by the employees.
Strategic program development
Employee outreach and communication
Creation of the reward program
Employee activity development
Application of technology and portal setup
Content creation and curation
Interested in Advocacy Marketing?
Get a 30-minute advocacy marketing review, and we'll give you a handful of helpful tips and techniques to get you started.